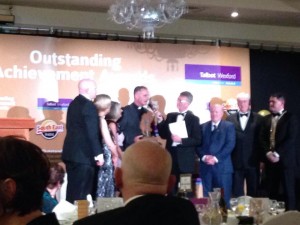 Huge congratulations to Fr Seán Devereux, the 2015 South East Radio/Talbot Hotel Outstanding Achievement Award Winner. Fr. Seán was commended for his incredible volunteer work in The Gambia. A well deserved winner. Hearty congratulations from all at South East Radio.
12 monthly Outstanding Achievement Award winners were honoured at a glittering gala ball at the Talbot Hotel, Wexford on Friday the 22nd January, culminating in the announcement of the overall winner. The awards ceremony was broadcast and streamed live on the South East Radio website as events unfolded.
Special guest Olympic Gold Medalist for boxing, Michael Carruth, praised the incredible work undertaken by the 12 award recipients, enhancing the lives of those in their community and further afield.
The January 2016 Outstanding Achievement Award was presented to a surprised team from Slaney Search and Rescue in honour of the fantastic work they did during the very recent floods in Enniscorthy.
If you know someone that goes above and beyond the call of duty in your community, business or in sport, nominate them on line now  for the 2016 monthly Outstanding Achievement Awards