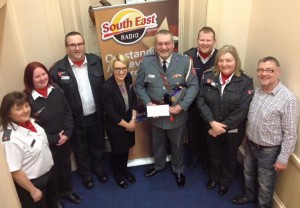 A big well done to David O' Grady, South East Radio/ Talbot Hotel Outstanding Achievement Award winner in February, for his outstanding contribution to his community whilst serving with the Order of Malta.
David is no stranger to our listeners as he gives wise counsel on all things first aid every fortnight on the Morning Mix programme with Alan Corcoran. He was promoted to the position of  Commandant and in that role he is the Regional Director for the Order of Malta covering Wexford, Carlow, Waterford, Kilkenny and Tramore.
David has volunteered in military service with the Order of Malta for a staggering 44 years. The Order lives by the mantra that " Our Lord is the seeker, Our Lord is the poor" in the way they operate. It recognises that not everyone can afford medical services or help. As well as the great voluntary work done in Co Wexford they fundraise for 8 people to accompany the Ferns Diocesan Pilgrimage to Lourdes every year to work as volunteers in the hospital facilities.
Speaking about David's work with the Order of Malta, Diarmuid Sinnott, Wexford Officer, says that David is recognised nationally and internationally for the incredible work he does. He is available 24/7, 365 days a year to organise people and to ensure resources are available when needed. He says that David is hugely knowledgeable in the role he performs for the Order.
Comdt. O Grady has been decorated with the following;-
Bronze Medal of merit – Services above and beyond the call of duty for services to special needs children.
Medal of Merit – First Aid Service to Special Olympics
Medal of Merit – First Aid Services during Papal visit 1979
Service medal – Long service medal 40 Years
Citation – Wexford Borough Council – Providing 4 x 4 Ambulance service 24 hours a day for 9 days during adverse weather condition to Ambulance Control, Wexford General Hospital  the public and the community.
David has provided first aid training for;-
Listeners every second Friday on South East Radio's Morning Mix
Transition Year Students
Teachers
Childcare workers
Parent & Toddlers groups
One on One First Aid/ Lifesaving to new mothers in the home
First Aid Courses to Sporting Clubs ,Community Groups  & the General Public
David has set up a Patient Transport Ambulance service to transport those people to hospital for appointments/respite.
David has set up a very successful First Aid Summer camp for the last 4 years for 10-16 year olds who would not normally attend sporting camps taking in 20 kids every year to the Ambulance base for a week
David is an Emergency Medical Technician and regularly commits himself to duty on the Ambulances at Sporting, Cultural and Community events
Christmas day will see him up at 0630 on duty at a Community event in Tomhaggard & Rosslare finishing at 1300hrs.
David is a founder member of Marine watch along with the other emergency services.
A modest David is delighted for the Order to be recognised through his work because it is the team he says that makes it all happen. The Wexford unit was awarded the best unit in the 32 counties last year, a very proud moment for David. He is also very proud of his sons and daughter who also volunteer for the Order of Malta.
Well done David, We are very proud of you!