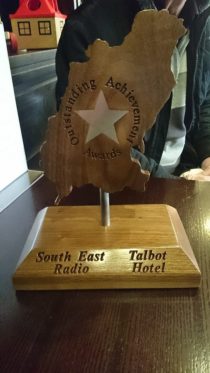 Our very first Outstanding Achievement Award winner for 2017 is our January winner Eddie Sinnott. Many moons ago he had a vision and decided to help the RNLI lifeboat and Rosslare instantly came to mind. To raise funds he started by selling tickets and ran a benefit night. In the latter years he had a tractor pulled from Curracloe to Morriscastle and back along with a benefit night. Then he and his team decided to pulled a boat from Kilmuckridge to Morriscastle and back. He could not do this without the wonderful team of people who do so much work.
He did not think 35 years on it would still be going. Eddie is a farmer, but his true love is the sea. He loves to fish. Nobody knows when they head out, if they will get back safely. Winds can pick up or tides may turn.
The RNLI are there when you need them. The work and volunteers are invaluable. He has raise close to €400,000 with a great heart and a great aim.
In light of recent events, everyone knows what the RNLI go through and without these funds the lifeboat literally could not go to sea. So many congratulations and best wish came in from all his family and friends.
Committee member Trish said the work Eddie does is invaluable. His work is phenomenal. A humble Eddie said it's the team that push him on, and work so hard night and day. Without the funds Eddie and his team have raised it would be impossible for the RNLI emergency services to operate.