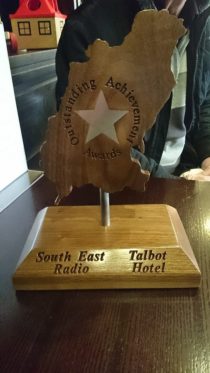 In the village of Taghmon, opposite the school, alongside the church stands the proud 60 x 30 Handball Alley which has 54 juvenile members – with 8 All Ireland and 6 Leinster titles.
Joe Sidney formed a committee 2 years ago.  At that stage the alley was just a derelict building and they raised €25,000 to do it up. They are now going to build a small 40 x 20 alley, which already has planning permission.
Joe is embedded in the community.  When he was young he played handball, then he went to Dublin to work and forgot all about it until his returned home to Taghmon and married Margaret Doran when he was 22.  They met through the youth club Tops of the Town and have 3 wonderful daughters.
He is a carpenter by trade and the community is very important to him.  Joe was in the soccer club for 20 years and was chairman for 15 years.  He was also involved with scouts and started Saint Joseph's Boxing Club in Taghmon.
Joe saw the need for a new handball facility in Taghmon as his grandchildren were going to a different area for sport, so he decided to transform a derelict building into something special for the people of Taghmon.  He loves 'the crack and the buzz' you get from handball. It keeps children together, there is brilliant co-ordination and discipline.
Joe was in complete shock when he received the South East Radio Talbot Hotel Outstanding Achievement Award.  He thinks the award is for the committee and the people of the village, not just him – people too numerous to mention.  He thanked everyone who has helped and who will help in the future.
His daughter Janette said he is affectionately known locally as 'daddy Joe' because he is a daddy to all.  He does not know how special he is.  He has always been the drive behind things in the village and never looks for recognition.  'Don't give out, get involved'
For any organisation to run well you need a good leader and that's Joe Sidney.