Sadly our esteemed colleague and friend Stephen Dee passed away suddenly on Thursday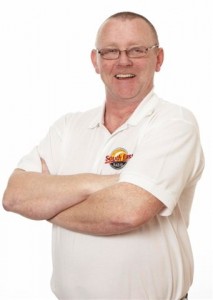 19th December 2013. His passing has left us deeply shocked. 
Stephen was one of the first presenters on South East Radio almost 25 years ago. He left us for a short time to pursue other passions in his life but returned again in 2011 to present South East Radio's Breakfast show.  He made an enormous impression with South East Radio listeners in a very short time.  People got to know  Stephen and Stephen his listeners. He spoke frequently about his personal  interests. He was very involved  in the local railway in Waterford, he loved music and he enjoyed talking about his ventures in the Army Reserves. His passing has left a huge void  in the lives of those who tuned in every morning  to hear his good humoured quips and enjoy his banter. 
Whilst we will miss him in the weeks, months and years to come, his mother, brother and sister are the ones who will bear the greatest lost.
May he rest in peace.
Here's a little more about Stephen Dee…..
Yesssss Sir…….. That' s right Stephen had his sights on becoming Sergeant Major until the dizzy, glitzy heights of broadcasting turned his head in a very different direction! Lucky for him he was able to pursue this desire by joining the Reserve Defence Force on a voluntary basis and this was a hobby now for almost 30 years.
Stephen Dee was born and bred and lived in Waterford. His passion for broadcasting stemmed from his great love of all types of music.
His career began in the early 80's in local radio, branching out to National radio in later years. "Up the Deise" was his regular cry as he was a huge supporter of his counties football and hurling teams.  Along with volunteering with the Reserve Defence Force, once a week, Stephen gave a helping hand at the Waterford Suir Valley Heritage Railway line.
He previously worked in South East Radio in 1990's, returning February 2011 to the South East Radio Breakfast Show.