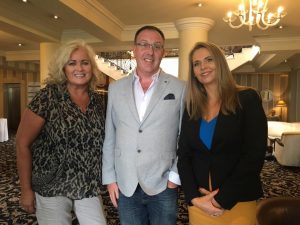 We are delighted to announce the launch of our inaugural Hospitality Awards. The South East Radio Hospitality Awards will take place on Monday the 19th of September at a lavish Gala Ball at our host venue this year, The Ashdown Park Hotel in Gorey.
The South East Radio Hospitality Awards seek to recognise and reward excellence in service, quality, value, experience, creativity and innovation in the Hotel, Restaurant, Pub, Café, Night Club and Live Music Venue sectors.
Our listeners are invited to nominate their favourite venue from a list of awards categories over a 6 week period commencing Monday 13th June. A shortlist of the top three venues in each category will be announced on July 22nd.and presented to our panel of esteemed judges. The judges will visit the selected top 3 nominees over a 5 week period commencing Monday 25th July.
Our judging panel comprises of some of Ireland's leading hoteliers, restaurateurs, publicans and hospitality providers.
We look forward to recognizing and rewarding those venues that are providing exemplary services to the Hospitality Sector in County Wexford on Monday 19th September at the Ashdown Park Hotel.