South East Radio/Talbot Hotel Outstanding Achievement Awards acknowledges and thanks those among us who put themselves out in the service of others.
It could be the ordinary person doing an extraordinary deed or someone in a job who regularly goes above and beyond the call of duty.  It might be a volunteer who is going that extra mile or a sports person that deserves special notice. Many of these achievers never look for publicity, reward or recognition.
South East Radio listeners are the eyes and ears of the awards. Listeners witness the effort and achievement of those special people and through their nominations, recognise the importance of what they have achieved.
Each month the nominations will be reviewed by a judging panel.  A monthly winner is
selected to receive an Outstanding Achievement Award and a luxury weekend break for 2 in any Talbot Group Hotel.
Every year a gala ball takes place at the Talbot Hotel, where the overall Outstanding Achievement Award will be presented to 1 of the 12 monthly winners, receiving a trophy and a fantastic prize.
Click here to nominate someone you think deserves to be an Outstanding Achievement Award Winner 2018.
Congratulations to Claire Marie Malone the
2017 Outstanding Achievement Award Winner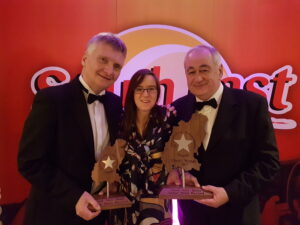 Congratulations to the Junior Outstanding Achievement Award Winner 
The Student Council at Colaiste Bride, Enniscorthy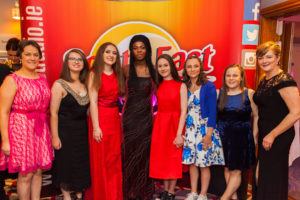 Below please find the twelve 2017 Outstanding Achievement Award monthly winners and four quarterly Junior Outstanding Achievement Award Winners