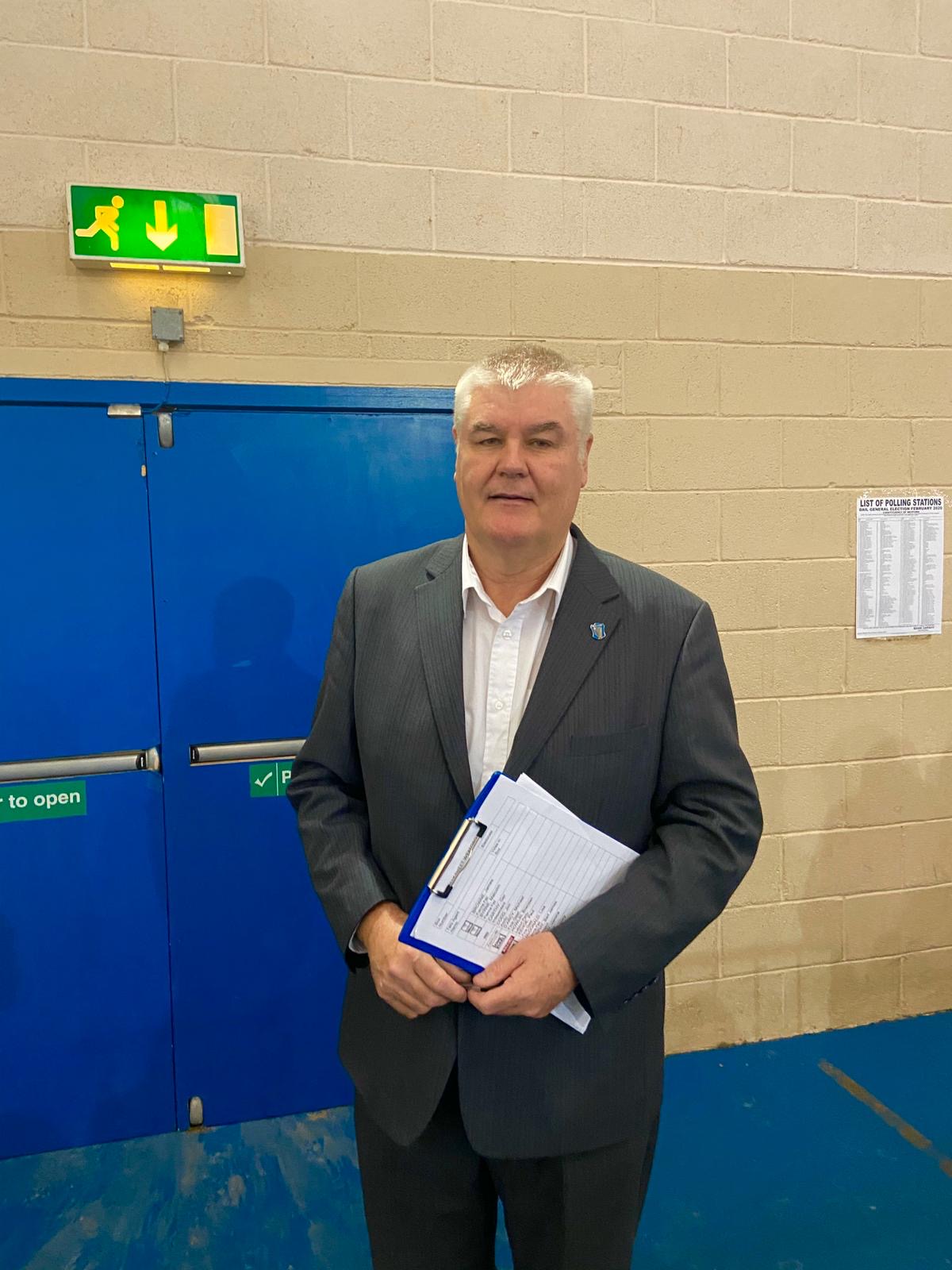 History will be made in Co. Wexford today.
Sinn Fein will have their first TD here in 102 years.   The party's candidate Johnny Mythen has polled significantly well in all areas.
Many of his votes appear to be be non-transferable.   15 people are contesting the five seats in this constituency.
The counting of votes is continuing at St. Joseph's Community Centre in Wexford.  A first official count is expected later this evening.
First Count Results:
General Election 2020 – County Wexford
5 Seats
| | | | | | |
| --- | --- | --- | --- | --- | --- |
| Surname | First Name | Party | Votes | Transfers | Elected/Excluded |
| BROWNE | James | FF | 8,058 | | |
| BYRNE | Malcolm | FF | 6,145 | | |
| CARTHY | Ger | IND | 3,024 | | |
| CODD | Jim | Aontú | 1,518 | | |
| D'ARCY | Michael | FG | 6,472 | | |
| HOWLIN | Brendan | LAB | 9,223 | | |
| KEHOE | Paul | FG | 6,337 | | |
| McDONALD | Lisa | FF | 1,351 | | |
| MURPHY | Bart | IND | 68 | | |
| MURPHY | Verona | IND | 5,825 | | |
| MYTHEN | Johnny | SF | 18,717 | | Elected on Count 1 |
| O' SHEA | Seanie | IND 4 Change | 825 | | |
| ROSEINGRAVE | Paula | Green | 2,028 | | |
| SHEEHAN | Michael | FF | 4,366 | | |
| WADDING | Deirdre | Sol-PBP | 1,116 | | |
| | |
| --- | --- |
| Electorate | |
| Total Poll | 75,622 |
| Spoiled Votes | 549 |
| Total Valid Poll | 75,073 |
| Quota | 12,513 |
Second Count Results:
| | | | | | |
| --- | --- | --- | --- | --- | --- |
| Surname | First Name | Party | Votes | Transfers | Elected/Excluded |
| BROWNE | James | FF | 8,462 | +404 | |
| BYRNE | Malcolm | FF | 6,338 | +193 | |
| CARTHY | Ger | IND | 3,603 | +579 | |
| CODD | Jim | Aontú | 1,865 | +347 | |
| D'ARCY | Michael | FG | 6,577 | +105 | |
| HOWLIN | Brendan | LAB | 9,911 | +688 | |
| KEHOE | Paul | FG | 6,455 | +188 |   |
| McDONALD | Lisa | FF | 1,411 | +60 | Excluded |
| MURPHY | Bart | IND | 103 | +35 | Excluded |
| MURPHY | Verona | IND | 6,498 | +673 | |
| MYTHEN | Johnny | SF | | | Elected on Count 1 |
| O' SHEA | Seanie | IND 4 Change | 1,553 | +728 | |
| ROSEINGRAVE | Paula | Green | 2,374 | +346 | |
| SHEEHAN | Michael | FF | 4,508 | +142 | |
| WADDING | Deirdre | Sol-PBP | 2,902 | +1,786 | |
Third Count Results:
General Election 2020 – County Wexford
5 Seats
| | | | | | |
| --- | --- | --- | --- | --- | --- |
| Surname | First Name | Party | Votes | Transfers | Elected/Excluded |
| BROWNE | James | FF | 8,858 | +396 | |
| BYRNE | Malcolm | FF | 6,541 | +203 | |
| CARTHY | Ger | IND | 3,746 | +143 | |
| CODD | Jim | Aontú | 1,905 | +40 | |
| D'ARCY | Michael | FG | 6,610 | +33 | |
| HOWLIN | Brendan | LAB | 10,120 | +209 | |
| KEHOE | Paul | FG | 6,483 | +28 |   |
| McDONALD | Lisa | FF | 1,411 | +60 | Excluded on Count 2 |
| MURPHY | Bart | IND | 103 | +35 | Excluded on Count 2 |
| MURPHY | Verona | IND | 6,664 | +166 | |
| MYTHEN | Johnny | SF | | | Elected on Count 1 |
| O' SHEA | Seanie | IND 4 Change | 1,590 | +37 | Excluded on Count 3 |
| ROSEINGRAVE | Paula | Green | 2,399 | +25 | |
| SHEEHAN | Michael | FF | 4,674 | +166 | |
| WADDING | Deirdre | Sol-PBP | 2,932 | +30 | |
Fourth Count Results:
General Election 2020 – County Wexford
5 Seats
| | | | | | |
| --- | --- | --- | --- | --- | --- |
| Surname | First Name | Party | Votes | Transfers | Elected/Excluded |
| BROWNE | James | FF | 8,905 | +48 | |
| BYRNE | Malcolm | FF | 6,564 | +23 | |
| CARTHY | Ger | IND | 3,923 | +177 | |
| CODD | Jim | Aontú | 2,015 | +110 | Excluded on Count 4 |
| D'ARCY | Michael | FG | 6,656 | +46 | |
| HOWLIN | Brendan | LAB | 10,271 | +151 | |
| KEHOE | Paul | FG | 6,522 | +39 |   |
| McDONALD | Lisa | FF | 1,411 | +60 | Excluded on Count 2 |
| MURPHY | Bart | IND | 103 | +35 | Excluded on Count 2 |
| MURPHY | Verona | IND | 6,841 | +177 | |
| MYTHEN | Johnny | SF | | | Elected on Count 1 |
| O' SHEA | Seanie | IND 4 Change | 1,590 | +37 | Excluded on Count 3 |
| ROSEINGRAVE | Paula | Green | 2,584 | +185 | |
| SHEEHAN | Michael | FF | 4,714 | +40 | |
| WADDING | Deirdre | Sol-PBP | 3,376 | +444 | |
Fifth Count Results:
General Election 2020 – County Wexford
5 Seats
| | | | | | |
| --- | --- | --- | --- | --- | --- |
| Surname | First Name | Party | Votes | Transfers | Elected/Excluded |
| BROWNE | James | FF | 9,075 | +162 | |
| BYRNE | Malcolm | FF | 6,640 | +76 | |
| CARTHY | Ger | IND | 4,427 | +514 | |
| CODD | Jim | Aontú | | | Excluded on Count 4 |
| D'ARCY | Michael | FG | 6,692 | +36 | |
| HOWLIN | Brendan | LAB | 10,451 | +180 | |
| KEHOE | Paul | FG | 6,574 | +52 |   |
| McDONALD | Lisa | FF | | | Excluded on Count 2 |
| MURPHY | Bart | IND |   |   | Excluded on Count 2 |
| MURPHY | Verona | IND | 7,118 | +277 | |
| MYTHEN | Johnny | SF | | | Elected on Count 1 |
| O' SHEA | Seanie | IND 4 Change | | | Excluded on Count 3 |
| ROSEINGRAVE | Paula | Green | 2,683 | +99 | Excluded on Count 5 |
| SHEEHAN | Michael | FF | 4,817 | +103 | |
| WADDING | Deirdre | Sol-PBP | 3,599 | +223 | |
Sixth Count Results:
General Election 2020 – County Wexford
5 Seats
| | | | | | |
| --- | --- | --- | --- | --- | --- |
| Surname | First Name | Party | Votes | Transfers | Elected/Excluded |
| BROWNE | James | FF | 9,151 | +76 | |
| BYRNE | Malcolm | FF | 6,750 | +110 | |
| CARTHY | Ger | IND | 4,636 | +199 | |
| CODD | Jim | Aontú | | | Excluded on Count 4 |
| D'ARCY | Michael | FG | 6,857 | +165 | |
| HOWLIN | Brendan | LAB | 11,320 | +869 | |
| KEHOE | Paul | FG | 6,677 | +103 |   |
| McDONALD | Lisa | FF | | | Excluded on Count 2 |
| MURPHY | Bart | IND |   |   | Excluded on Count 2 |
| MURPHY | Verona | IND | 7,220 | +132 | |
| MYTHEN | Johnny | SF | | | Elected on Count 1 |
| O' SHEA | Seanie | IND 4 Change | | | Excluded on Count 3 |
| ROSEINGRAVE | Paula | Green | | | Excluded on Count 5 |
| SHEEHAN | Michael | FF | 4,881 | +64 | Excluded on Count 7 |
| WADDING | Deirdre | Sol-PBP | 4,359 | +760 | Excluded on Count 6 |
Seventh Count Results:
General Election 2020 – County Wexford
5 Seats
| | | | | | |
| --- | --- | --- | --- | --- | --- |
| Surname | First Name | Party | Votes | Transfers | Elected/Excluded |
| BROWNE | James | FF | 9,246 | +25 | |
| BYRNE | Malcolm | FF | 6,843 | +93 | |
| CARTHY | Ger | IND | 5,738 | +1,102 | |
| CODD | Jim | Aontú | | | Excluded on Count 4 |
| D'ARCY | Michael | FG | 6,922 | +65 | |
| HOWLIN | Brendan | LAB | 12,307 | +987 | |
| KEHOE | Paul | FG | 6,712 | +35 |   |
| McDONALD | Lisa | FF | | | Excluded on Count 2 |
| MURPHY | Bart | IND |   |   | Excluded on Count 2 |
| MURPHY | Verona | IND | 7,790 | +570 | |
| MYTHEN | Johnny | SF | | | Elected on Count 1 |
| O' SHEA | Seanie | IND 4 Change | | | Excluded on Count 3 |
| ROSEINGRAVE | Paula | Green | | | Excluded on Count 5 |
| SHEEHAN | Michael | FF | 4,932 | +51 | Excluded on Count 7 |
| WADDING | Deirdre | Sol-PBP | | | |