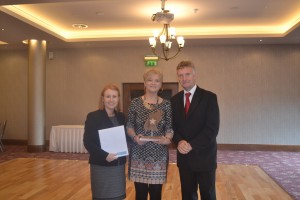 Sandra is one of the most inspirational people in county Wexford. A Cancer survivor, Sandra is now involved in a number of cancer charities, giving her support and sharing her advice with those who are still fighting this horrible disease.
Sandra was diagnosed with Pseudomyxoma Peritonei, a type of cancer which affects 1 in a million people. This type of cancer was not operable in Ireland at the time so the UK was the closest alternative. The cancer was caught in time and whilst the doctors moved quickly it was  a year after her cancer diagnosis when Sandra had major surgery in the UK.
The ordeal she went through because of the big C, meant that she was away from her children, James 7, and Aaron 5 for seven weeks. She was in a wheelchair then for 8 weeks following the operation and with the support of her family and friends she regained her strength and is now sharing her experience and encouraging other cancer sufferers to fight.
Cancer is unfortunately a disease we keep hearing more about, but caught in time, and given appropriate treatment it can be cured.
Sandra's experience has taught her that you have to live every day the best you can, and her advice to people who are going through battles like hers is to stay positive and believe in yourself that you will beat cancer. She is bringing all of us a message of hope and as she says it: "Get up and fight, never give up". For trying to make a difference and offering her support and encouragement, Sandra gets a well-deserved Outstanding Achievement Award from South East Radio Station and the Talbot Hotels.