Happy Birthday,
South East Radio Celebrates 25 Years!!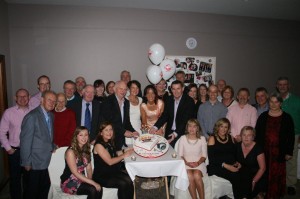 3pm, 20th October 1989 was the historic moment when Eamon Buttle, Founder of South East Radio, officially launched South East Radio on the airwaves to the people of Co Wexford.
And what a 25 years it has been! The award winning station continues to bring best in class programmes for everyone to enjoy. Winning the McNamee Award for best sports programme, the GSK award for best broadcaster and 4 PPI awards, 2 of which were gold, shows that the station's formula of great music, superlative sports and spellbinding human interest stories exceeds the action standards amongst its peers in the industry.
South East Radio is the favourite radio station in Co Wexford. 68,000* adults turn their dials to 95.6-96.4FM every week.  61,000 listeners tune in everyday; 45,000 in Co. Wexford and another 16,000 adults in bordering counties. In fact, (A IPOS/MRBI fact!) South East Radio has the highest percentage daily listenership in Leinster at 40%, and those tuned into South East Radio stay listening for longer than any other radio station.
This week is celebration week. There are prizes galore with fantastic electrical items, luxurious weekend breaks, dining out and sparkling jewellery vouchers up for grabs. South East Radio looks forward to celebrating in style throughout the week with you.
Read more at: South-East Radio Celebrates 25 Years!
*JNLR IPSOS/ MRBI May 2013- June 2014 (Joint National Listenership Research- Ipsos/ MRBI)