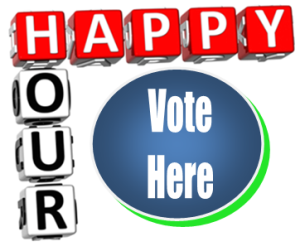 We want to know what songs  make you feel good. We want to know what songs make you want to punch the air with happiness. We want to know what songs gets your feet tapping and your hands clapping! 😛
On Easter Monday we will have "HAPPY HOUR" between 11am and 12 noon with Dave Redmond. During Happy Hour we will count down the top 10 to the song that makes Wexford happiest! 😉
All you have to do is vote for your favourite song from the list we compiled from your favourite "Happy Songs" with a few of our favourites thrown in for good measure.
Only one song can be selected per person. The poll will close at midnight Thursday 2nd April.Once you have cast your vote the poll will no longer be available to view on the "Happy Hour" page.
Listen in to "Happy Hour" on  Easter Monday between11am and 12 noon with Dave Redmond for the count down to the song that makes South East Radio's listeners happiest!!
Your vote for the South East Radio/Talbot Hotel Outstanding Achievement Award Overall Winner has been received. Thank You
Loading ...