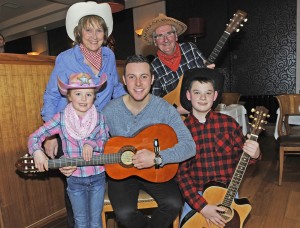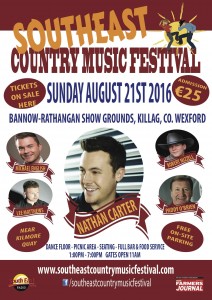 Nathan Carter comes to Killagh this Summer
Nathan Carter is set to headline the South East Country Music Festival in Killag, Wexford on 21st August 2016.
The event is the first of its kind to take place in the South East, where some of Ireland's biggest Country and Irish acts will present an incredible day of entertainment.
In addition to Nathan Carter, the festival will feature a stellar line-up of country artists including Michael English, Robert Mizzell, Paddy O'Brien and Lee Mathews.
Fr. Denis Doyle, Chairman of the South East Country Music Festival committee said, "This unique event promises to be the country festival highlight in the South East this Summer and shouldn't be missed. We're delighted to be bringing Nathan Carter and the other artists to this outdoor event which is set to be a fantastic family day out."
Gates open at 11 o clock for this unique event and non-stop entertainment will be provided throughout the day from 1pm until 7pm. A large dance-floor will facilitate those that wish to dance to the performances and seating is also available. Festival-goers will enjoy easy access to and from the festival venue with ample on-site parking, in addition to a host of hospitality facilities that includes a full alcohol licence and food services.
The event takes place at Bannow-Rathangan Showground's, near Kilmore Quay in Killag. Co. Wexford.
Tickets, priced at just €25.00, are available at local outlets which are available on the www.southeastcountrymusicfestival.com website and on eventbrite/southeastcountrymusicfestival.com.
Tickets can be bought at the following outlets
PJ Murphy, Kilmore
Brady's Mace, Kilmore Quay
McDonnells Shop, Bridgetown
Bridgetown Post Office
Bannow-Rathangan Show, Killag (July 14th)
Bolgers Homevalue Hardware, Ballycogley
Eurospar, Taghmon
Wallaces Homevalue Hardware, Wellingtonbridge
Wexford Town
Richie Doyle & Sons Butchers,  1798 St and Main St, Wexford
Billy Doyle Shoes, Selskar St, Wexford
Enniscorthy
Billy Doyle Shoes, Main St, Enniscorthy
Bunclody
Sugar & Spice, Main St, Bunclody
Ferns
Bolger's Homevalue Hardware, Milltown, Ferns
Gorey
P&H Doyle Car Dealer, Carnew Rd, Gorey
New Ross
Nolans Bookshop, 14 South Street, New Ross
Carlow
The Ardattin Inn, Tullow
Dublin
Roayl Marine Hotel, Marine Road, Dun Laoghaire, Co. Dublin
Kilkenny
Kilkeny River Court Hotel , The Bridge John St, Kilkenny
The Rhu Glenn Country Club, Slieverue, Co. Kilkenny
South East Radio and The Farmer's Journal are proud media sponsors of the South East Country Music Festival.