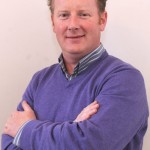 Dave Redmond returns next Monday 27th January to present South East Radio's Breakfast Show from 7am- 10am each weekday morning.
Here's what Dave has to say…..
"Proud native of Gorey, married to Mary with three boys, Ruadhán, Éanna and Darragh. A hectic family life and without doubt is the most enjoyable time of my life. You just don't know what they're gonna come up with or ask! They've a very interesting take on (my) wrinkles. Give up sugar, dad and they'll go away. Cheaper than surgery I guess.
Worked a number of Dublin city stations and RTÉ, most recently BBC in Yorkshire.
Thrilled to be returning to present South East Radio's hugely popular breakfast programme, with a mix of great music, giveaways and a daily dose of what's making news, entertainment and travel updates. The best way to start your day. Up at silly o' clock Monday to Friday and on air from when you wake up, join us from Monday 27th!
Stephen Dee was a friend and colleague that I'll never forget. A great presenter, fun loving character, who got the most out of life. He is missed greatly and we cherish the memories he left us with and will be forever in our thoughts and prayers."