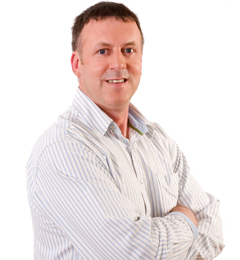 It's hard to believe that Jimmy was mischievous but he was…..when he was a kid!  Butter wouldn't melt in his mouth now! A native of Waterford, Jimmy has an eclectic taste in music which he has fostered from a very young age. He has a particular passion for American Rock but really listens to anything from Madonna to Guns n' Roses!
His radio career began in 1981 on local radio. His persistent nature meant he was in the
right place, at the right time and he got his big break at Christmas as a swing  jock filling in for other presenters on holidays. He has never looked back.  His radio career has been varied and enjoys recalling his interview with Charlie Haughey back in the 1980's as a career highlight.
And there's more…….
Jimmy is proud to be part of South East Radio since day 1, almost 25 years ago now.  On the first day of broadcasting on the 20th October 1989 he presented his first "Late Night Affair" programme from 10pm – 2 am.
Jimmy's broadcasting career, like many presenters today, started in pirate radio.  In fact many of his former colleagues appear on his imaginary dinner party guest list.  Roddie Cleere tops the list followed by Shay Searson, Timmy Ryan, Andy McCluskey and of course Stephen Dee (RIP)
Growing up close to Waterford Crystal, Jimmy is likely to have had a career as a blower or engraver there if he hadn't pursued a career in radio. He shows his practical side when he says he would bring a gun for protection, a dog for company and an endless supply of food if stranded on a desert island.
Jimmy has sound advice to offer to his children; avoid negative people, treat people like you would like them to treat you and always stand up for what you feel is right. Seeing a defenceless animal treated badly is likely to bring a tear to his eye.
Jimmy recalls Germany as his favourite place to visit "For me it would have to be Germany.  What a great country with great industries. People are laid back. I have a big interest in World War 2 so the fact that I was able to visit and walk around Dachau concentration camp was one of the highlights when I visited Germany. There's lots of museums to visit too. And what can I say about the Beer (there's plenty of it)"
And by the way he is a closet Liverpool fan!
Jimmy Ryan presents South East Radio's Late Zone 9pm- 1am each weekday and Friday Night '80s from 8.30pm