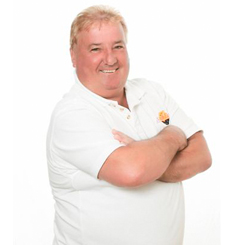 Tony is intrinsically linked with Country and Irish music and is world famous in County
Wexford, a legend in his own lifetime! He hails from Screen and says he was a lovely little chap when he was at school….what happened!
He is an avid music lover with over 15,000 CDs in his collection to prove it. His favourite music is Calipso and with his huge interest in music that it was only natural Tony would find himself in a career that had music at its core. He started his radio career in 1983 in Georges Street Wexford. He was one of the first presenters on South East Radio when it hit the airwaves in 1989.  He cites Johnny Cash as being the most famous person that he has ever met and played the drums at his concert in the Cork Opera House in 1987.
He is also a great animal lover – his love of horses in particular is as famous as his love of music. He has cattle, goats, ducks and hens! He loves the movie the "Jazz singer" and his favourite song of all time is Starship's" We built this city on rock and roll"
Tony Kehoe presents South East Radio's Country N' Irish 6pm- 8pm each weekday