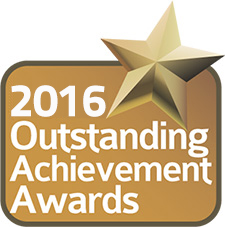 South East Radio/Talbot Hotel Outstanding Achievement Awards acknowledges and thanks those among us who put themselves in the service of others.
It could be the ordinary person doing an extraordinary deed or someone in a job who regularly goes above and beyond the call of duty.  It might be a volunteer who is going that extra mile or a sports person that deserves special notice. Many of these achievers never look for publicity, reward or recognition.
South East Radio listeners are the eyes and ears of the awards. Listeners witness the effort and achievement of those special people and through their nominations, recognise the importance of what they have achieved.
Each month the nominations will be reviewed by a judging panel.  A monthly winner is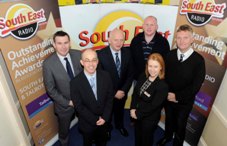 selected to receive an Outstanding Achievement Award and a luxury weekend break for 2 in any Talbot Group Hotel.
Every year a gala ball takes place at the Talbot Hotel, where the overall Outstanding Achievement Award will be presented to 1 of the 12 monthly winners, receiving a trophy and a fantastic prize.
Nominate someone on line for a monthly South East Radio/Talbot Hotel Outstanding Achievement Award- simply click here.
Congratulations to Lorraine Dowling, Our Outstanding Achievement Award Winner for March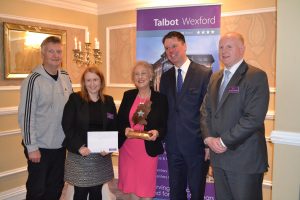 A  very surprised and honoured Lorraine Dowling received a South East Radio/ Talbot Hotel Outstanding Achievement Award for March 2016. Lorraine dedicated much of her adult life promoting Co Wexford as a tourist destination.
A native of Canada, Lorraine grew up in Co Carlow. She studied in Spain for a year and following her return to Waterford, she met with Jack Walsh from South East Tourism who invited her to apply for a position in tourism.
Lorraine successfully combined teaching and tourism for the last 40 years, spending the summer months in the tourist office. When asked what her secret was to handling difficult customers, she answers, "always with a smile" She discovered that language is not really a barrier once you smiled and showed some encouragement.
Her biggest stand out moment was the opening of the Tourist Information Office on the Quay. Tributes poured in with Monica Grafton speaking about Lorraine's involvement in the promotion of Wexford walking tours.  A colleague thanked her for her huge contribution to tourism in Co Wexford, saying her positivity and enthusiasm shone through. There was never such thing as a bad day with Lorraine and that she has been a stalwart for Wexford Tourism.
Congratulations to David O' Grady, Our Outstanding Achievement Award Winner for February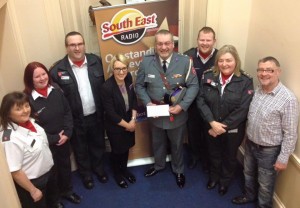 A big well done to David O' Grady, South East Radio/ Talbot Hotel Outstanding Achievement Award winner February, for his outstanding contribution to his community whilst serving with the Order of Malta.
David is no stranger to our listeners as he gives wise counsel on all things first aid every fortnight on the Morning Mix programme with Alan Corcoran. He was promoted to the position of  Commandant and in that role he is the Regional Director for the Order of Malta covering Wexford, Carlow, Waterford, Kilkenny and Tramore.
David has voluntereed in military service with the Order of Malta for a staggering 44 years. The Order lives by the mantra that " Our Lord is the seeker, Our Lord is the poor" in the way they operate. It recognises that not everyone can afford medical services or help. As well as the great voluntary work done in Co Wexford they fund raise for 8 people to accompany the Ferns Diocesan Pilgrimage to Lourdes every year to work as volunteers in the hospital facilities.
Speaking about David's work with the Order of Malta, Diarmuid Sinnott, Wexford Officer, says that David is recognised nationally and internationally for the incredible work he does. He is available 24/7, 365 days a year to organise people and to ensure resources are available when needed. He says that David is hugely knowledgeable in the role he performs for the Order.
A modest David is delighted for the Order to be recognised through his work because it is the team he says that makes it all happen. The Wexford unit was awarded the best unit in the 32 counties last year, a very proud moment for David. He is also very proud of his sons who also volunteer for the Order of Malta.
Well done David, We are very proud of you!
Congratulations to Slaney Search & Rescue, Our Outstanding Achievement Award Winners for January
Congratulations to Slaney Search & Rescue for their outstanding contribution during the flooding crisis in Enniscorthy over the Christmas period. Second time recipients of the award, ( previous winners of a Person of the Month Award) Slaney Search & Rescue worked tirelessly to ensure that those affected by the floods were kept safe and provided for during this time.
Founded in 1995 by the late Harry O Connor in response to a search for a missing person, the organisation continues to day spearheaded by the other founding member Margaret Kavanagh Casey along with Harry's son Shane, Johnny Byrne, Philip Egan Eileen Mulally and a host of other volunteers. The founders quickly realised that a permanent voluntary rescue service was needed to respond to difficulties encountered along the river Slaney.
Members worked throughout the night until the early hours of the morning moving people in danger to safety. During the day they transported people to across the river to get urgent provisions from shops and chemists. They ferried health care workers to their place of work.
Slaney Search and Rescue have 2 boats at the ready for immediate launch. They provide training to their members in boat skills, navigation and engine maintenance at their weekly meetings. It's with thanks to them that Enniscorthy and its environs is a safer place to live.
Huge CONGRATULATIONS to Fr. Sean Devereux 2015 Overall Outstanding Achievement Award Winner

Huge congratulations to Fr Seán Devereux, the 2015 South East Radio/Talbot Hotel Outstanding Achievement Award Winner. Fr. Seán was commended for his incredible volunteer work in The Gambia. A well deserved winner. Hearty congratulations from all at South East Radio.
12 monthly Outstanding Achievement Award winners were honoured at a glittering gala ball at the Talbot Hotel, Wexford on Friday the 22nd January, culminating in the announcement of the overall winner. The awards ceremony was broadcast and streamed live on the South East Radio website as events unfolded.
Special guest Olympic Gold Medalist for boxing, Michael Carruth, praised the incredible work undertaken by the 12 award recipients, enhancing the lives of those in their community and further afield.
The January 2016 Outstanding Achievement Award was presented to a surprised team from Slaney Search and Rescue in honour of the fantastic work they did during the very recent floods in Enniscorthy.
If you know someone that goes above and beyond the call of duty in your community, business or in sport, nominate them NOW by clicking on the above link for the 2016 monthly Outstanding Achievement Awards
To review the 2015 Outstanding Achievement Monthyly Awards Winners Click Here 
To review the 2014 Outstanding Achievement Monthly Award Winners Click Here
To review Person of the Month Awards please Click Here