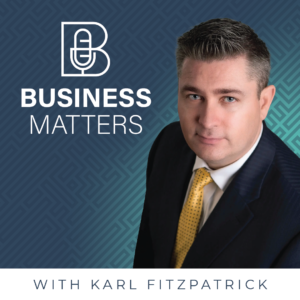 South East Radio's Business Matters is a weekly business programme that has become the focal point for business owners across the South East. From the iconic Sir Richard Branson and Sir Michael Smurfit, leading business figures feature among the 1750 guests on this fast paced business programme and podcast.
Featuring Ireland's most promising High Potential Start-Ups, to inspiring Social Enterprises and the country's most successful indigenous and exporting enterprises, Business Matters is a masterclass for entrepreneurs at all stages in their journey.
Since launching on 4th February 2012, Business Matters has been presented by one of the South East's leading entrepreneurs, Karl Fitzpatrick. A Law graduate of University College Cork, Karl is the President of Chevron College, Ireland's largest privately owned provider of QQI accredited further and higher education programmes. Chevron College delivers its diverse range of programmes through e-learning and employs over 150 staff.
A Director of Chambers Ireland and the Irish Franchise Association, Karl has access to the people that matter in the world of business, bringing real life experience and insights to the Business Matters boardroom. Karl also makes a significant contribution to a range of social and community projects through his membership of The Rotary Club of Wexford. A former Club President and Chair of the organisations Youth programmes for over 10 years, he is the brainchild of the Wexford Volunteer Expo. which has facilitated the recruitment of over 1000 volunteers for local charities and community groups.
Join Karl every Saturday morning 10.30am-11.30am and email the show: businessmatters at southeastradio.ie
You can access the back catalogue of Business Matters interviews on the Spotify and Apple Podcast platforms.