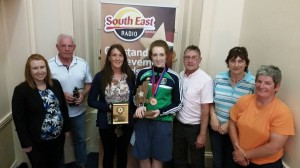 Joanne Richards, a worthy winner of the South East Radio & Talbot Hotel Outstanding Achievement Award for the month of May.
Joanne is a young boxer from St. Michael's boxing club in New Ross. She started boxing just 3 years ago and among many of her boxing awards,  has recently brought home a bronze medal from Taiwan World Championships.
Congratulations to Joanne Richards!
Learn more about South East Radio's/ Talbot Hotel Outstanding Achievement Awards