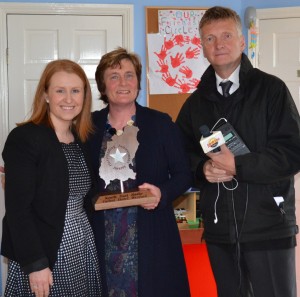 A stunned Monica Morton is April's recipient of South East Radio's Outstanding Achievement Award  in association with the Talbot Hotel at Jack and Jill's Playschool Oulart, surrounded by her family and friends.
A popular winner, Monica works at Jack & Jill's Playschool. A mother to 6 children and grandmother to 3, Monica still finds time to work tirelessly for her 3 passions.  Her Down Syndrome son Martin, inspired her involvement in fund raising for Down Syndrome Ireland, St Patricks Special Needs School and now Enniscorthy Community Workshop.
Her daughter Catriona says she is a fantastic mother and grandmother to her 3 grandchildren. Ann Marie Furlong, Deputy Principal of St Patrick's Special Needs School, Enniscorthy, says that Monica continues to fund raise for St Patrick's even though Martin has moved on to Enniscorthy Community Workshop. Monica in fact organised this weekends ( May 4th) Church gate collection! No matter what fund raising event is on for the school, Monica is always there.
Well done and thank you Monica for all of your hard work.