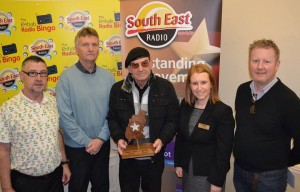 Joe Ahearne Murphy is the first winner of the Outstanding Achievement Award 2014. Joe, a popular award nominee, has been a "saviour" to hundreds of neglected horses who in many cases have been starved, abandoned and left to die. Joe rescues these horses and brings them to Holly's Horse Haven, a rescue centre where the horses receive the help and care they need before they are allocated new homes.
He swims on St Stephen's Day to raise money for Holly's Haven. He is modest and unassuming and never looks for recognition. He is truly an unsung hero and a deserving recipient of the January Outstanding Achievement Award for his work in the community helping distressed horses.
A big congratulations to Joe from everyone at South East Radio and the Talbot Hotel Wexford.