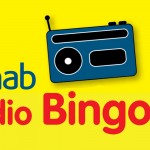 For as little as €4 you could win a massive €15,500 on Jackpot Tuesday. With 140 stockists Countywide it has never been easier to pick up one of the new look Rehab bingo books. Every time you buy a bingo book you are helping your local Rehab. In 2012 alone Rehab Wexford received a staggering €100,000 in funding raised directly from your support of South East Radio's Rehab Radio Bingo. 
If you haven't played before the easy to follow instructions on your Rehab bingo book will have you up and playing in no time or you could check out the Rehab page on our website.
Eyes down to win cash prizes!