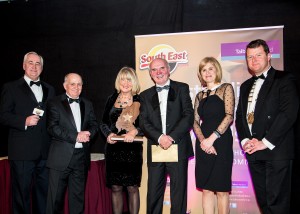 It was a night of firsts: The first overall South East Radio/Talbot Hotel Outstanding Achievement Awards Gala Ball, our first posthumous award winner and the first live broadcast of the awards ceremony from the Talbot Hotel, Wexford.
Huge congratulations go to our 2014 Overall Outstanding Achievement Award winner Michael Morrison, whose proud parents Breda and Edward received the award on his behalf.
Michael Morrison passed away in July 2014, at the age of 38. He was diagnosed with Cystic Fibrosis very early in his life and was told he will not make it past 12 years old. He is fondly remembered as a strong character, helpful and kind, by all who knew him.
Throughout his relatively short life his ambition was to help other people and he spent a great deal of his time and energy to promote good causes. A UCD Michael Smurfit Masters Graduate, Michael wrote books to give hope to people that were suffering and the funds from the sales of those books go to the Tracy Lawlor Trust, a Cystic Fibrosis charity www.tracielawlortrust.com. Michael completed three more books awaiting publication and the funds raised from these books will also go to charitable organisations.
Michael organised numerous charity events, balls and soccer blitzes. He was appreciated by everybody he worked with and most of all by his family. A tireless worker with a great joie de vivre, as his parents describe him, Michael will be remembered by everybody as an inspirational young man.
His mother, Breda receiving the award on his behalf, recalls Michael's  positive outlook on life, his drive to enjoy every moment and his belief in the importance of kindness in words and actions to all,  as we can all make a difference to the world we live in.
Congratulations to Michael and his family and of course to all of the monthly South East Radio/Talbot Hotel Outstanding Achievement Award winners, the unsung heroes in our community.
.