Hope and Dream 10, 10th April 2016
South East Radio is once again  delighted to support "Hope & Dream 10"  2016.
The Hope and Dream 10 project was the brainchild of Tom Herlihy and John O' Leary. Both men are members of Slaney Olympic Athletic Club and had experience in organising events like this. Their vision for this race was to make it all inclusive, regardless of ability.
Hope Cancer Support Centre is now responsible for organising the event. Since 2012 an amazing €532,246 has been raised for the Hope Cancer Support Centre and its Charity Partners.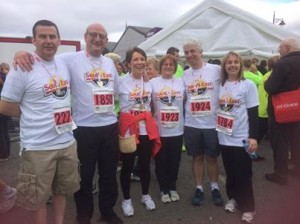 The 10 mile race is designed to appeal to everyone from the walker/jogger to the serious runner. The 10k event will appeal to walkers and joggers alike.
The Little Dreamers Dash is a kids event. So it's an event for all of the family! It takes place on the Promenade for all children, while the main race is underway.
The event is an important fund raising event for 2 County Wexford Charities; Hope Cancer Support Centre, Enniscorthy and Wexford Hospice Homecare.
100% of the proceeds from the event goes directly to each charity.
For more information about Hope Cancer Support Centre see: www.hopesupportcentre.ie
Wexford Hospice Homecare is the third charity benefiting from the Hope & Dream 10 event.  County Wexford Hospice Homecare service was established in 1991 by a voluntary committee to provide a home based Specialist Palliative Care Service in County Wexford.
The aim of the service is to enhance the palliative care of patients in the home and the community and to support and assist their families and professional carers. This service is available to people throughout County Wexford. The service is provided by a group of specialist palliative care nurses.
The service is funded through voluntary donations from organisations and individuals throughout the county. It is also supported by an annual subvention from the HSE.
All money raised in County Wexford stays in County Wexford.
For more information about Wexford Hospice Homecare see www.wexfordhospice.ie
Sign up today at www.hopeanddream10.com
We look forward to seeing you there!!