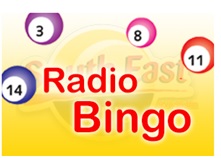 Next weeks South East Radio Bingo Jackpot is a whopping €16,000! What would you do if you won €16,000?
You could:
Get a brand spanking new kitchen with new appliances and probably have change over.
Go on an all expenses paid holiday of a lifetime.
Build an extension to your home.
Help your daughter or son with their wedding bill.
Have bumper Christmas for you and your family.
…….. you fill in the blanks!!
One thing is for sure, if you are not in you cant win! Pick up a €4 bingo book at one of the 140 stockists around the county. Sit back in the comfort of your living room and tune in to South East Radio each weekday ( and of course Jackpot Tuesday:) )  at 10am, 12noon, 5pm and 7pm to play.