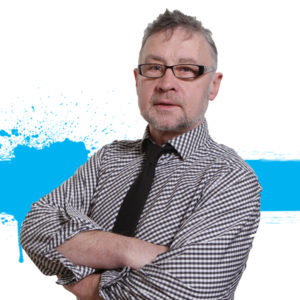 Jim Kealy is from Arklow but is now living in Enniscorthy. Jim has had a passion for broadcasting since he was a child. He remembers mimicking the iconic news broadcaster Charles Mitchell on Radio Eireann.
He has also been a life time admirer of Gay Byrne. Jim Kealy's hobbies include amateur drama and musicals Among the parts he has played are Jud Fry in Oklahoma and Bill Sykes in Oliver. Jim also likes to sing and has been known to sing the odd song or two late at night.
He commenced his formal broadcasting role in the mid nineties and for a number of years had a career in sales and marketing. When he is not in South East Radio, you could find Jim tending to his garden at home in Enniscorthy where he lives with his wife Marion and their two young children.