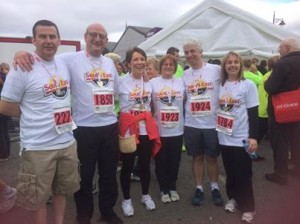 A big WELL DONE to everyone who took  part in yesterday's Hope and Dream 10. It was a fantastic event with over 2,000 people taking part. People walked, jogged, ran and even pushed buggies around the course for 2 fantastic causes : Hope Cancer Support Centre Enniscorthy and Console, an organisation providing suicide bereavement counselling.
The weather in no small way played its part providing perfect conditions for the event. The atmosphere was electric as everyone warmed up at the start.A deluge of green colour mounted the first hill as the walkers and runners turned from the promenade onto the course proper with lots of local supporters cheering them on.
It was great to see everyone supporting and encouraging each other along the way. There was lots of humourous banter and craic and water was drunk by the gallon as people took on those steep hills with massive twists and turns. Runners from the 10k were first on the home stretch 35 minutes or so after the starter gun was fired. Once one or two reached the final 9km marker with 1 km to go, there was a flurry of participants that followed, with their eyes firmly fixed on the finish line. The 10 mile runners followed surprisingly quickly afterwards.
Congratulations also to the organisers of the event.  It went smoothly from start to finish with everyone in the right place as the right time doing their voluntary job for the day.
Well done to our own South East Radio crew, they did themselves proud!
South East Radio, Proud Supporters of Hope & Dream 10.