It's official – we're County Wexford's No.1 radio station! For details of our listenership see here.  South East Radio plays Wexford's best music. We have the most up to date local, national and international news, information & sport. Here you can read about us, see us, listen to us LIVE, check out the local news, win free stuff, contact us, and much more!
Thanks for stopping by – we hope you enjoy your visit to the home of County Wexford's SOUTH EAST RADIO! 
A huge CONGRATULATIONS to Denis O Connor Overall Winner of the Person of the Month award 2012/2013. Denis has done fantastic work with Console, helping those bereaved by suicide. For more on the awards night Click Here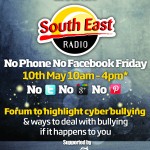 South  East Radio's No Phone No Facebook Friday
Say No to Bullying on Friday 10th May.
South East Radio shines the spot light on this
growing issue amongst teenagers in our community.
Click Here for more information.